Blog/

Jimi Hendrix gig poster I designed finds its way to Michael original gig attendee
22nd February 2021
Every now and again, mainly as a hobby but also to sell and to use as an advertising tool, I'll create a piece of graphic design, commercial art or poster and have printed a limited run to sell or to give away.
A year or two ago I heard guitar legend Jimi Hendrix – in his brief but blinding 4 year or so years in the music spotlight – played a gig in a small Newcastle club, as a result of his friendship with once bass guitarist of The Animals and then manager Chas Chandler who brought him to the city on a small UK tour.
When I found out that no posters exist of the event, and that all that survives in print of the event is a small newspaper clipping, I thought it would be interesting to use contemporary posters of that era and the information I could glean from the newspaper advertisement, put them together and design a poster that would have been used to promote the gig.
So that's what I did, printed a few copies off, sold a few and shared them in a few places online, where they were received really well (probably more a reflection of Jimi Hendrix's popularity that of the quality of the posters!)
So I was delighted when Michael from Blyth got in touch so say that he like the posters, would like one and that he was actually at the gig in 1967!
So off I went to drop one off at his house, and to my delight (being a Hendrix fan) he was only too happy to tell me all about the gig.
Apparently the band scene in Newcastle was thriving at the time, and come Friday night, without fail, Michael – a mod – would head to the city on his scooter, sometimes with a girl on the back, sometimes not. When he got there and parked up alongside all the other bikes, he'd have a look in venue after venue until he found a 'turn' on to his liking, and he'd head to the bar and settle in to watch the live music.
On this occasion – the 10th March 1967 – he wandered into the Club A Gogo on Percy Street to find a young guy called Hendrix was due to play that night. After a funny episode where a roadie almost derailed the whole thing by blowing up Jimi's Marshall amp, a quick repair was required, and Hendrix arrived on stage to do a full 20 minute set.
Some 600 or 700 people packed out the small venue that night, including (apparently) Jimmy Nail and Sting amongst others – most of whom were so struck by what they'd seen that they wanted more and were vocally reluctant to see the Rock icon leave the stage.
But leave he did, and headed to the coast where he'd do another gig in the region a night or two later. Happily though, it wasn't Michael's last encounter with Hendrix, as finding himself in North Shields (a few miles out of Newcastle) the following day he spotted Hendrix's tour van, open no less and stocked with Hendrix's now iconic military style jackets.
Sadly though, Hendrix was nowhere to be found, so instead Michael reached in & touched his jacket that would become music legend – perhaps as a way of having some tangible connection to the man himself.
Sadly, three years later, Hendrix was dead, but in his fleeting career, he'd created one of the most legendary and influential bodies of music in popular music history.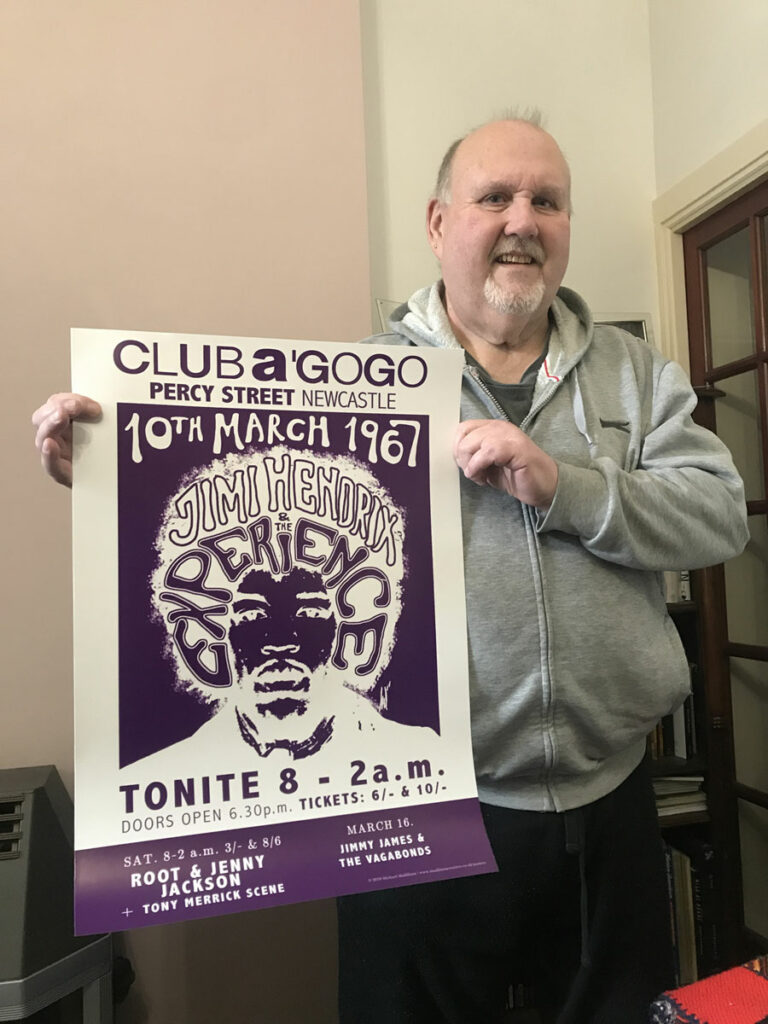 Maddison Creative is a web design agency specialising in all things online and offline – your one-stop-stop for all your design needs – websites, advertising, digital design or graphic design – whether you're a small business, a startup business or medium size or enterprise.