Blog/

Fantastic free opportunistic advertising by Greggs
4th January 2021
Greggs the bakers has long been known for its delicious value for money pastry snacks (other North East based family bakery chains are available!), but in recent years it has also come to be recognised by the strength of its brand and the originality of its advertising as much as for its consistently good quality produce and its sterling work in the community.
Perhaps its quirkiest and most opportunist ad placement has given it an enormous amount of media exposure for the cost of a shop sign thanks to some brilliant creative thinking.
One of Greggs most popular stores is the one on Northumberland Street, Newcastle upon Tyne, a stone's throw from the Gosforth shop where Greggs first started trading in 1951.
Every year, at Christmastime, the Fenwick's department store – located directly across Northumberland Street from the Greggs in question -decorates its window with an original bespoke Christmas theme that attracts thousands of people from far and wide, and that has become an integral part of Christmas for people who have grown up in and around the area.
On noticing the plethora of photos of Fenwick's window that began appearing on social media that featured the reflection of the illuminated Greggs shop sign, and always on the lookout for new and interesting ways to promote its brand, Greggs quickly whipped down their existing sign, and had one made up especially for the festive period.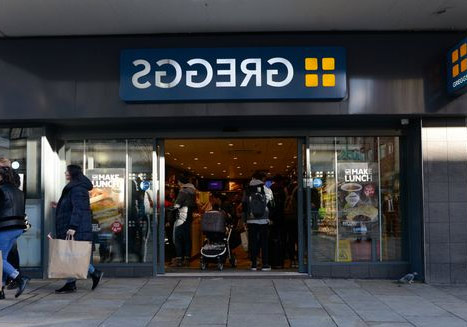 As you can see, the new sign is exactly the same as the existing one, only everything is in reverse (as you can see above). This serves one very important purpose – now when people take photos of Fenwick's window, the Greggs logo appears in the reflection the right way round.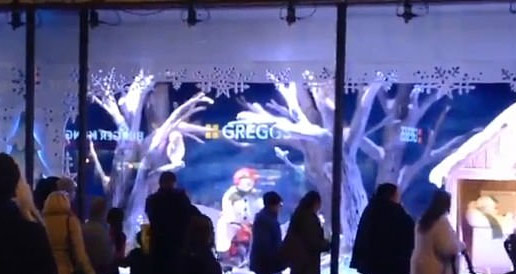 Another indirect consequence of the sign being back to front is that it jumps out at you even when you're looking at it directly. For a second you query it, then you work out what's happening, then you get a waft of freshly baked pastry, almost immediately you begin to feel slightly peckish and you find yourself wandering in for something to eat.
As well as thousands of photos being shared via social media platforms, the quirky advertising opportunity has also made national news, giving Greggs even more bang for their buck.
But do Fenwick's mind Greggs hijacking their marquee Christmas event? Not at all. "Both Fenwick Newcastle and Greggs are synonymous with the region so we see this as a compliment for Greggs to want to be involved with our annual Christmas window reveal." said Carl Milton, store director at Fenwick Newcastle.
I love inventive ways of advertising like this. We face a constant bombardment of advertising that much of it blends into the scenery, and only when you see something truly funny or original, or engaging do you actually take notice of it.
Greggs should congratulate themselves for having achieved that here.