Blog/

5 of the best page/theme builders for your WordPress site
22nd June 2021
Whereas once building and managing a website was solely for web designers/people with coding experience, nowadays anyone and everyone can easily and quickly set up and manage their own site.
However, whilst it can be simple to get your site live, to choose a style and add some content, beyond that it can still require a level of technical knowhow that many people (understandably) just don't have.
This can lead to a good deal of frustration when any kind of customisation, optimisation or improved functionality or performance is required.
Many people cower at the sight of lines and lines of code, where one character out of place can mean curtains for your site, and potentially your business (at least in the short term).
Thankfully, lots of tools exist for exactly this reason, where nice, user-friendly interfaces are replacing code editors, allowing people with minimal web design/development experience to confidently update and improve their sites.
(And say it quietly, but a lot of these tools make life easier for trained web designers too!)
What is a page builder?
A page builder is a plugin for your WordPress (in this case) site, that, once installed, gives you the option of building beautiful bespoke page layouts without writing a single line of code.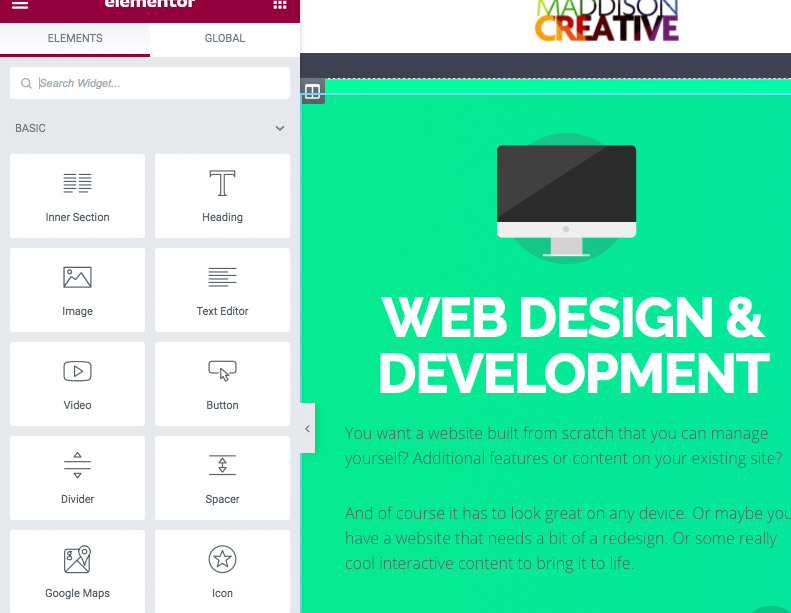 Using the plugin's interface, you simply drag and drop pre-designed elements on to your page, customising them as you go.
You can create single pages, giving each part of your site a custom look, feel and function, or use the builder to create templates that you can reuse over and over again to keep your site consistent and easy to update and maintain.
Here are a few of the best page/theme builders available for WordPress today:
1. Elementor
Elementor is one of the most powerful page builders available. Drag and drop widgets from the menu on the left onto your page, choosing from a wealth of options, including layout elements like sections and columns, images, galleries, sliders, testimonials, WordPress posts & more. And if that's not enough for you, Elementor allows you to add more options/widgets with additional plugins.
Elementor is free, but has a premium option: Elementor Pro that comes with more widgets, the option of adding custom css (if you're feeling brave) and gives you the ability to create reusable templates.
2. Beaver Builder
Beaver builder is one of the most popular theme/page builders. Very user friendly and simple to use, so suitable for complete beginners.
Packaged with 30 pre-designed (and customisable) templates for you to use straight out of the box, so you can let someone else do the heavy lifting for you.
'Modules' (the name it uses for the drag and drop elements it contains) available are similar to Elementor – everything from text and images to carousels and accordions – allowing you to introduce lots of lovely style elements and functionality quickly and easily, and it's all infinitely customisable.
Pricing starts at $99 (there is no free option).
3. Divi
'The ultimate WordPress Page Builder" according to Divi's own website, it offers 'the future of WYSIWYG' (what you see is what you get, or designing visually). Lots of great modules, and an impressive level of customisability.
Divi allows you to edit in real time, so the changes you see will be replicated exactly on the live version.
Divi page/theme builder is bundled with hundreds of 'Website packs' – essentially pre-designed layouts/themes for any device for you to use out of the box, so you have everything you need to get your site looking and working great. Or you can use the builder with another theme of your choosing.
Priced from $89 per year.
4. Visual Composer
Another popular page builder with over 100,000 active installations, Visual Composer was the first builder I tried and I found it really straightforward to use and intuitive. There are hundreds of page elements available for you to choose from, and there's a free version if you're looking to build pages (rather than themes/templates – the premium version is $59 per site).
Visual Composer is designer for web design professionals, and so may be a tad complex for newbies, which may cause some difficulties when introducing some of the more complex elements.
I also found that Visual Composer created so much data that it increased the size of my site's database to the point where it could potentially slow down the site.
5. Themify
Themify offers pre-built themes that come bundled with its page builder, and also their own page builder for you to use with any other theme.
It has a front end and back end builder for different levels of ability (you can get stuck into the code if you wish).
It also comes with 40 or so pre-built themes (of varying quality I have to say!)
The interface isn't quite as intuitive as many of the others mentioned here, so it might cause problems for those people without much experience.
You can download Themify's builder for free, or purchase any of their themes that come with the builder bolted on for $59, which also gives you a year of updates & support.
Conclusion – Which is best?
My favourite of the page/theme builders listed above is Elementor. The free version has more than enough options, and allows you enough scope to edit global settings (that will apply changes to the whole site) that even without the premium version you can effectively build and manage a great website.
And if you're looking for extra functionality or style elements, then there are lots of free/freemium plugins designed to bring even more options to Elementor.
Elementor's version history that allows you to go back and revisit the changes you've made to pages over time, you can make updates with confidence that you can go back to previous versions if your updates don't work.
Happy building!